Description
Foods by Ann Oat cookie Chia & Almond (50g)
Vegan, gluten-free oatmeal cookie with the addition of almonds and chia seeds.
The coconut pulp gives the cookie a delightfully soft texture, and the chia seeds give it character and texture. Its delicious taste is due to almonds and Himalayan salt - a classic combination that everyone loves! You will not find lactose in the cookie, but all the power of fiber, which perfectly affects our digestive system and regulates digestion.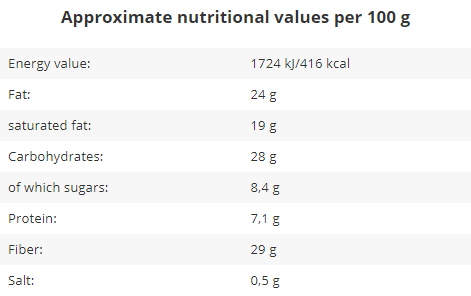 No added sugar. It contains naturally occurring sugars. Suitable for vegans.

Store in a dry and cool place. To keep the product fresh for longer, store it in an airtight container after opening.
Ingredients: gluten-free oat flakes 32%, coconut (coconut flakes, coconut flesh), chicory root fiber, almonds 6%, chia seeds 2%, Himalayan salt.
May contain: sesame, peanuts and other nuts. Processed in the facility that uses milk proteins.
Payment & Security
Your payment information is processed securely. We do not store credit card details nor have access to your credit card information.