Description
NUTLOVE PROTEIN PRALINES Milk Choco Peanut 48g, of the polish brand ALLNUTRITION - Delicious pralines with nut cream, covered with milk chocolate!
Protein Pralines Milk Choco Peanut are protein pralines with a nut filling in a milk coating. The taste of pralines is inspired by the wonderful Allnutrition Nutlove! It is a truly delicious snack that will satisfy the desire to reach for "a little sweetness". Pralines will provide a few moments of sweetness! It is not only a delicious but also a healthier substitute for popular chocolates. It is also a great protein snack with a unique taste, but most of all - it is a product of the highest quality!
The nut cream found inside the chocolates contains as much as 33% of protein. Milk chocolate, due to the addition of powdered milk, contains protein. Protein contributes to the growth and maintenance of muscle mass, it also helps maintain healthy bones.
In the package you will find 4 delicious chocolates, packed separately.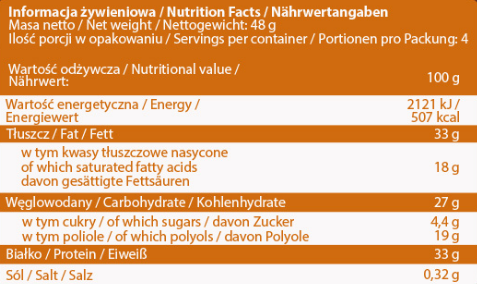 Directions for use:
A delicious snack that you can eat at any time of the day.
Ingredients: Milk chocolate 50% (sweetener: maltitol, whole milk powder, cocoa butter, cocoa mass, lactose, powdered whey [from milk], emulsifier: lecithin), protein-nut filling 50% (proteins (pasteurized whey with milk, sunflower oil), roasted peanuts)).
Payment & Security
Your payment information is processed securely. We do not store credit card details nor have access to your credit card information.